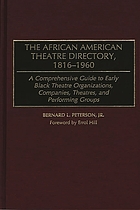 African American Theatre Directory, 1816-1960 : A Comprehensive Guide to Early Black Theatre Organizations, Companies, Theatres, & Performing Groups
Call Number: PN 2270 .A35 P48 1997
ISBN: 9780313295379
Publication Date: 1997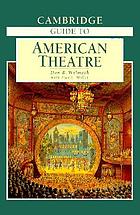 Cambridge guide to American theatre
Call Number: PN 2220 .C35 1993
ISBN: 9780521434379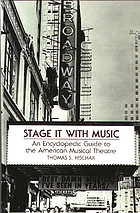 Stage it with music : an encyclopedic guide to the American musical theatre
Call Number: ML102 .M88 H6 1993
Located in the Media Room (2nd floor, non-circulating).
To find dissertations, access Digital Dissertations and learn how to request dissertations via the Center for Research Libraries, please visit our Dissertations and Theses guide.
Manhattan Research Library Initiative (MaRLI)
This research initiative allows select researchers access and circulation privileges at Columbia University, NYU, and NYPL research libraries. To be eligible you must have a NYPL library card and demonstrate research need. Further information about MaRLI and the application process can be found on the NYPL website here.
This research guide is developed to highlight some of the key resources in Theatre. Choose from the topics in the tabs across the top of this page to focus on the materials you need.
To find sources for journal articles select the Find Articles tab
To search for print and electronic books select the Find Books tab
To search for plays, play indexes, promptbooks, and monologues select Find Plays tab

To search archival collections and primary source databases select the Primary Sources tab
To search for archival images and videos select Find Images/Video tab

For information on grants and fellowship opportunities select the Funding tab

My contact information appears in the box to the right. If you'd like to meet with me to discuss your work or for help with the materials listed here please phone or send me an email . Using this guide is a good way to get started but there may be more specialized tools and sources that don't appear here to which I can direct you.
What's New at the Martin E. Segal Theatre Center
Loading...
Martin E. Segal Theatre Center Publications
Slavic and East European Performance
ISBN: 10470018
This journal (formerly called Soviet and East European Performance) brings readers lively, authoritative accounts of drama, theatre, and film in Russia and Eastern Europe. The journal includes features on important new plays in performance, archival documents, innovative productions, significant revivals, emerging artists, and the latest in film. Outstanding interviews and overviews.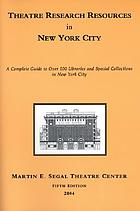 Theatre research resources in New York City
Call Number: PN2277 .A44 2007
ISBN: 9780966615272
Theatre Research Resources in New York City is the most comprehensive catalogue of New York City research facilities available to theatre scholars. Within the indexed volume, each facility is briefly described including an outline of its holdings and practical matters such as hours of operation. Most entries include electronic contact information and web sites. The listings are grouped as follows: Libraries, Museums, and Historical Societies; University and College Libraries; Ethnic and Language Associations; Theatre Companies and Acting Schools; and Film and Other.
Journal of American Drama and Theater
Call Number: Shelved Under Title
ISBN: 1044937X
Publication Date: 1989-Present
Founded in 1989 and previously edited by Professors Vera Mowry Roberts, Jane Bowers, and David Savran, this widely acclaimed journal is now edited by Professors Naomi J. Stubbs and James F. Wilson. JADT publishes thoughtful and innovative work by leading scholars on theatre, drama, and performance in the U.S. – past and present. Provocative articles provide valuable insight and information on the heritage of American theatre, as well as its continuing contribution to world literature and the performing arts.
Western European Stages
Call Number: Graduate Center - Periodical Collection - SHELVED UNDER TITLE
ISBN: 10501991
An indispensible resource in keeping abreast of the latest theatre developments in Western Europe. Each issue contains a wealth of information about recent European festivals and productions, including reviews, interviews, and reports. News of forthcoming events: the latest in changes in artistic directorships, new plays and playwrights, outstanding performances, and directorial interpretations.
Shawn(ta) Smith
Contact Info
212-817-7053
Reference Librarian
Mina Rees Library
CUNY Graduate Center
365 Fifth Avenue
New York, NY 10016-4309
Send Email
Loading...